Table of Contents
1.... Panera Bread's strategy. 1
2.... SWOT analysis of Panera Bread.. 2
3.... Panera Bread's's financial performance. 5
4.... Rival restaurant chains. 8
5.... Panera Bread and needed strategies. 9
1.

Panera Bread's strategy
What is Panera Bread's strategy? Which of the five generic competitive strategies discussed in Chapter 5 most closely fit the competitive approach that Panera Bread is taking? What type of competitive advantage is Panera Bread trying to achieve?
Panera Bread Company (PBC) management has designed and executed a strategy for becoming the best brand name of fresh bread. Panera is known as a casual fast food restaurant, which means that they are a fast food provider but produce a higher quality product and offers a unique dining environment. PBC has designed a broad differentiation strategy which has helped their profitability and growth; in addition rivals have found it hard to compete with the competitiveness of PBC. This PBC's strategy is "to provide a premium specialty bakery and café experience to urban workers and suburban dwellers."
This represents a differentiation strategy, the Broad Differentiation Strategies, trying to be unique in a segment for consumers. This segment looks broad and different elaborated strategies try to expand the frontiers (e.g.: neighbour, repeat the dinner). Managers at PBC have detected the possibility of developing a differentiation strategy offering a perfect equilibrium for customer satisfaction (quality, price, comfort, etc.). PBC has incorporated all these buyer-desired attributes into its products that they reach a differentiation from the competence.
Prior to taking the PBC concept nationwide, the management performed cross-country market research and concluded that consumers could get excited about a fast and high quality dining experience, called fast casual. By choosing this strategy, PBC is attempting to achieve competitive advantage, offerings that rivals don't have and can't afford to match. In this case, delicious handcrafted bread arriving fresh daily, served in an inviting atmosphere is the company's competitive advantage and core competency. This differentiation strategy, executed by an excellent management, under a brilliant plant, has allowed to PBC to achieve, in a sustainable base over the time, high rates and benchmarks (e.g.: operational, financial, customer satisfaction).
Finally, PBC has created differentiating attributes in researching and testing new products, chain distribution to provide every day fresh product, and good marketing strategy to promote its values. In addition, PBC has incorporated several product attributes offering them to a low price, good quality, and charming environment. In this way, PBC has known how to provide customer satisfaction winning its trust.
2.
SWOT analysis of Panera Bread
What does a SWOT analysis of Panera Bread reveal about the overall attractiveness of its situation? Does the company have any core competencies or distinctive competencies?
A scan of the internal and external environment is an important part of the strategic planning process. Environmental factors internal to the firm usually can be classified as strengths or weaknesses, and those external to the firm can be classified as opportunities or threats. Such an analysis of the strategic environment is referred to as a SWOT analysis.
The SWOT analysis for PBC will provide information that is helpful in identifying the internal and external factors that are favourable and unfavourable to achieving that objective, and matching the organization's resources and capabilities to the competitive environment in which it operates. As such, it is instrumental in strategy formulation and selection particularly helpful in identifying areas for development.
The subjects required for a SWOT analysis, and they consideration for PBC, are:
· Strengths: attributes that are helpful to achieving the objective (e.g.: reputation, experience, capability, resources, stakeholder network, access/influence capacity to decision makers). In PBC's case, the most important strengths are bread-baking expertise artisan breads, high quality food, highly profitable, local customer base, multiple award winner, nationwide leader in the bakery-café segment, high ratings in customer satisfaction studies/surveys, high efficient learning curve, good brand name that management is continuing to strengthen, success in catering, financial strength, restaurant charming environment, economies of scale.
· Weaknesses: attributes that are harmful to achieving the objective (e.g.: shortage of consultants, deadlines, pressures, distraction, reliability of data, management cover, succession, accreditation, financial status). In PBC's case, the most important weaknesses are less well-known brand name than some rivals, sales at franchised stores run a bit higher than those at company-owned stores, weak dinner menu, not to offer any substantial entrees, soup quality varies from day to day, small percent of profits come from dinnertime sales, low brand awareness in new markets, market saturation in St. Louis area, leased land, off-site dough preparation and delivery.
· Opportunities: external conditions that are helpful to achieving the objectives (e.g.: Stakeholder needs, new regulations, emerging concerns, market development, awareness trend, technology development, partnerships). In PBC's case, the most important opportunities are to expand into new markets, both company-owned and franchised—there is untapped growth potential in a number of suburban markets, open locations outside the U.S., increasing health consciousness among consumers, expanding their product line to include current trends (e.g.: more veggie food, organic foods, special dietary food), design a more attractive franchise policy, dinner crowd, global sales, global economic instability.
· Threats: external conditions which could do damage to the objective (e.g.: new regulations, stakeholder needs, miss of direction, political changes, market demand, new technology, loss of key staff, sustainable financial backing). In PBC's case, the most threats are rivals begin to imitate some of PBC's menu/ambience, competition from other restaurant chains in the fast-casual segment or other restaurant categories becomes more intense, delivery services, human resources, attractiveness of competitor due to high profit margins, and some areas start to shows some degree of market saturation.
As summary we could design the SWOT analysis Framework: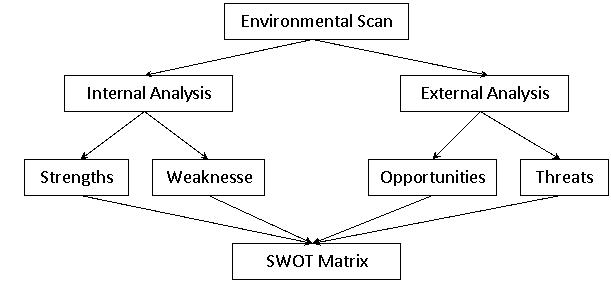 In a complementary analysis (e.g.: when PBC is looking for go abroad), PBC could develop a PESTLE analysis; it describes the framework of macro-environmental factors used in the environmental scanning component of strategic management. The PESTLE analysis is useful before SWOT and it helps to understand and assess the environment in which the organization will operate before to conduct any decision. Many variant to PESTLE exist such as the addition of demographic factors.
The subjects required for a PESTLE analysis are:
§ Political factors: they are how and to what degree a government intervention in the organization business (e.g. environmental law, trade restrictions, tariffs, political stability).
§ Environmental factors: escan determining the interaction between different subjects and the increase awareness (e.g. weather, air, land, climate).
§ Social factors: they affect the demand for resources (e.g. cultural aspects, health consciousness, population growth rate).
§ Technological factors: they can determinate barriers and opportunities (e.g. ecological and environmental aspects, R&D activity, automation, technology incentives, rate of technological change)
§ Legal factors: (e.g. health and safety law, environmental law). These factors can affect how a company operates, its costs, and the demand for its products.
§ Economic factors: they could impact on how business operates (e.g. include economic growth, exchange rates, inflation rate).
Both processes demand important discussion and resource efforts. The efficiency of the process has a strong relationship with the people how participate and the commitment of them to carry on the analysis in an efficient and sustainable way. Other key factor is to define correctly the objectives; without a clear and common accepted definition of the objectives and outcomes, these processes could easily fail.
As summary, the SWOT analysis will reveal the competitive advantage that PBC has, why it is in an attractive situation, and what PBC may do to strengthen its competitive advantage against rival chains. The strengths analysis shows that the bread-baking expertise, delicious handcrafted bread arriving fresh daily, served in an inviting atmosphere is the company's competitive advantage and core competency for PBC.
3.

Panera Bread's's financial performance
What is your appraisal of Panera Bread's's financial performance based on the data in case Exhibits 1, 2, and 8? How well is the company doing financially? Use the financial ratios in Table 4.1 of Chapter 4 as a guide in completing the calculations needed to arrive at an analysis-based answer to your assessment of Panera's recent financial performance.
The following analysis is based on the 2009 Annual Report to Stockholders, PBC [4].
PBC summarized 2009 as the year in which many restaurant companies were focused on surviving the economic meltdown, but for PBC, 2009 was different as it has chosen to stay the course and continue to execute our long-term strategy of investing in our business to benefit the customer [4].
Over the years of operation, PBC has accumulated capital, cash flow and not long-term debt. This policy has provided to PBC an excellent opportunity in a difficult year for most of its competitors.
Profitability ratios

Gross profit margin

68%

Return on total assets

10.36%

Operating profit margin

14%

Return on stakeholder's equity

14.41 %

Net profit margin

6.42 %

Earning per share

$2.81 (+25.45)

Liquidity ratios

Current ratio

2.3:1

Working capital

$179,825,000

Quick ratio

2.18

Leverage ratios

Debt-to-assets ratio

28.7 %

Long-term debt-to-capital ratio

2.98%

Debt-to-equity ratio

36 %

Timers-interest-earned ratio

705 times

Long-term debt-to-equity ratio

28.67 %

Activity ratios

Days of inventory

10.3 days

Average collection period

7.6 days

Inventory turnover

35.6 times

Solvency ratios

Debt to Total assets

28.67%

Time interest earned

201 times

Other

Dividend payout ratio

0[1]

Dividend yield on common stock

01

Price/earnings ratio

24.61 [2]

Internal cash flow

$154,013,000
The liquidity ratios do not show any problem in liquidity for PBC. The current ratio is high; between 2008 and 2009 PBC has an increment of 133% in current assets and 25 in current liabilities.
The activity ratios show one of the strategies of PBC in quality and fresh food. The PBC's balance sheet shows a very insignificant inventory value.
The solvency ratios and leverage ratios show the PBC's policy of not having long-term debt. In addition PBC presents a low rate of debt on assets, which speaks about many things; for example, how PBC is financing its growth, ability to continue growing, reliability for investors, etc. These ratios show that PBC is an excellent position; its dividend policy, of not paying dividends based on the EPS increase stresses this (the compounded annual growth rate formula establishes an average of 21% per year between 2002 and 2009).
The profitability ratios show a good performance; this profitability has been maintained over the time, which does very attractive the running of PBC.
These ratios are in average similar to the performed during the last seven years. This shows a consistency, a good planning growth, and PBC policy and strategy execution according to PBC vision and strategies.
4.

Rival restaurant chains
Based on the information in case Exhibit 9, which rival restaurant chains appear to be Panera's closest rivals?
PBC operates in the very competitive restaurant industry. It competes against all the large fast food companies such as McDonald's, Burger King, Applebee's, and Wendy's; in other side also compete with cafes such as Starbucks and New World Restaurant Group Inc, and other such as Atlanta Bread Company, Au Bon Pain and Chipotle. PBC is one of the younger companies in the industry, which means it room for growth is still abundant.
PBC Bread differentiates itself from the normal fast food chain by offering a bakery and deli style sandwiches. PBC has found a distinctive niche in the restaurant industry enabling it to market to a growing costumer pool that wants better quality food.
PBC has not only one major competitor. According to the specific segment that we consider, PBC will find some competitor with a core development in this segment; if we move over the PBC businesses, we will find different degree of overlap with other chains. To put the eyes in only one competitor could represent a strategic mistake.
In the fast-food segment, PBC has huge competitors such as McDonald's and Burger King with a strong world wide presence. In the chill-out segment, Starbucks represents an important competitor; it has more that ten times more locations and around eight times more revenue. Starbucks has a strong abroad expansion policy and an excellent reputation for customers. In the dinner segment, Applebee's has a strong position; it has the double of locations and a weak presence abroad. Its revenues are a 70% higher than PBC and also it has a good reputation. In the specific bakery segment, Au Bon Pain represents a serious competitor; with the 40% of location in USA and abroad than PBC, also has reached around of the 40% in revenues than PBC. In comfort, family customers and customer acceptance, Cracker Barrel represents a risk; the business development is different for a fair comparison, but it has a huge revenues compared with the number of locations.
In addition, such as Exhibit 9 presents, many other chains could represent a by-side competitor, but not with an important overlap. They offer many important things to customer, they have an important market share, but their segment has a small overlap with the PBC core business (e.g.: Chipotle Mexican Grill and California Pizza Kitchen)
5.

Panera Bread and needed strategies
What strategic issues and problems does Panera Bread management need to address?
For restaurateurs, study results suggest that developing positive indicators of customer behavioral intentions relies not only on the restaurant's ability to increase customer satisfaction, but also to establish a favorable image and perceived value. Hence, the relationship between restaurant image, perceived value, and customer satisfaction is something that restaurateurs are keen to strengthen in pursuit of customer approach behavior (i.e., intention to revisit, willingness to recommend, intention to visit more frequently). Particularly, the eight marketing activities (i.e., store location, waiting time for a meal, decor and interior design, food quality, menu variety, professional appearance of staff, price, and cleanliness) found in this study may directly affect the image of quick-casual restaurants. Therefore, favorable image building by managing and marketing these eight services marketing variables in accordance with the restaurant's image is crucial [5].
The current shape of the economy could represent a threat for some chains or a huge opportunity. PBC has shown that it had in a very good position for taking advantage of the current economic period. Without long-term debt, continue and sustainable growth over the last seven years, high indexes of solvency, liquidity, profitability and activity. But this continuous growth is not exempt of problems, threats and potential improvements such as the SWOT analysis have shown [6].
At this growth rate, the human resources at management level could represent a future problem. The transmission of the PBC philosophy and principles could be diluted when the company has a huge expansion. This dispersion represents a potential issue that PBC could early prevent with consistent human resources policies.
In the desire of expansion, the distraction and alternative path could represent a problem for the management at PBC. Up to now, it looks that PBC has worked very well focusing in the right strategies and having a powerful methodology of evaluation and assessment; but with the continuous expansion, new opportunities appears that they also represent potential distractions.
Sooner or later, PBC will have a more aggressive and risky strategy for going abroad. This is a market that PBC is starting to develop with locals in Canada, but it looks that PBC is a step backward of its competitor is this area.
The franchise policy looks to have a lot of constraints, probably pursuing the high efficiency that has become a characteristic of PBC. This high efficiency could no be maintained for many years and under this assumption, the strategy related with the franchise will have to be re-evaluated.
Due to the high profitable business, PBC will see an increase in the competition from chains with closer characteristics. This issue will continue demanding to PBC to maintain the initiative in the differentiation of the competency.
Finally, the taste of consumers evolves over the time due to many considerations. PBC should be very attentive to this evolution and address them.
6.

Panera Bread needs
What does Panera Bread need to do to strengthen its competitive position and business prospects vis-à-vis other restaurant chain rivals?
There are many opportunities to be analysed for PBC to strength its competitive position and business prospects [1][3].
PBC strength related with the artisan and fresh bread could be stressed offering its products to other chains (competence and non-competence); this looks a low profitable segment, but it could add market share and new opportunities to PBC. In addition, if we link this strength with other ones such as customer satisfaction and multiple award winner, we could have a potential multiple and more profitable benefit.
The financial strength represents a huge opportunity to develop quicker the market in these economic times. Without debt and solid financial ratings, PBC could develop a more aggressive expansion without to assume high risks.
To expand the business to new options, PBC has developed with success the catering segment, but it has not still tried to develop the delivery business segment. Again, based on the good reputation and name, it could be an advantage. This segment will lose the charming environment of the PBC restaurant, but the catering experience shows that also it could have not a huge impact.
Online ordering service could represent an added value to PBC. In a casual fast market, this kind of extra services could offer an extra value to customers. In addition, the service will provide efficiency to PBC.
One segment to expand is the dinner; PBC could explorer some different alternatives to boost dinner sales; for example adapt the menu specifically for dinner considerations. This could represent a potential huge business development where PBC has a lot of market share to capture. In addition, the combination of dinner and family service could boost the PBC sales. The current dual work in the average family in the United States could find a strong ally in this service combination.
The PBC menu is very well accepted and recognized by the customers, but we know that world such as saturation, taste evolution, etc, could rapidly change this. PBC needs to continue having as strength its attractive menu. For this, PBC should continue explorer different alternatives finding the most efficient point (e.g.: more veggie food, organic foods, special dietary food).
Conclusions
PBC management looks to be working very well, but in order to compete effectively in this highly-competitive industry, this management needs to define a clear strategy that addresses the company's distinctive competence. The most important distinctive competence is its name, and the company should promote it as such. Given the industry's competitiveness and the fickleness of its consumers, management can strengthen its competitive position by providing a superior product, many options and alternatives, excellent environment, and all that at the best value to consumers.
Already PBC is competitively priced but many external events might curb the company's profitability; PCB should continue looking for improvement and increase efficiency by implementing new and better strategies.
Works Consulted
[1] Combs, J., Ketchen, D., and Duane Ireland, R. (2006). Effectively managing service chain organizations. Organizational Dynamics, Vol. 35, No. 4, pp. 357–371
[2] NASDAQ. Retrieved July 19, 2010, from http://quotes.nasdaq.com/quote.dll?page=multi&mode=stock&symbol=PNRA&symbol=&symbol=&symbol=&symbol=&symbol=&symbol=&symbol=&symbol=&symbol=&x=0&y=0
[3] Panera Final Draft. Retrieved July 17, 2010, from http://www.scribd.com/doc/18200602/Panera-Final-Draft
[4] Panera Bread Company. 2009 Annual Report to Stockholders. Retrieved July 19, 2010, from http://www.panerabread.com/pdf/ar-2009.pdf
[5] Ryua, K., Hanb, H., and Kimc, T. (2008) The relationships among overall quick-casual restaurant image, perceived value, customer satisfaction, and behavioral intentions. International Journal of Hospitality Management v.28, pp. 459–469
[6] SWOT analysis of Panera. Retrieved July 17, 2010, from http://www.scribd.com/doc/24225867/SWOTAnalysis-of-Panera-by-THIRU
[7] Thompson, A., Strickland, A. and Gamble, J. (2008) Crafting and Executing Strategy 17th Edition 2008, McGraw-Hill Irwin.
---
[1] Dividend Policy
"We routinely evaluate various options for the use of our capital, including the potential issuance of dividends; however, we have never paid cash dividends on our capital stock and do not have current plans to pay cash dividends in 2010 as we currently intend to re-invest earnings in continued growth of our operations and our share repurchase program, as discussed below." [5]
19/05/11