A Marketing Research and Analysis
Northern Alberta Institute of Technology
Date: December 3, 2010
To: Arun Bhardwaj, JRSB130 Introduction to Marketing Instructor
From: Gustavo Hernandez, JRSB130 Introduction to Marketing Student
Subject: Rogers' Chocolates
Here is the report you asked me to prepare in the context of the research and analysis assignment for the course JRSB130 Introduction to Marketing.
The subject was proposed under the two main conditions to be applied for this course: a Canadian company and a small middle size company. I chose this subject based on the challenge in the growth target that Rogers' Chocolates has set. This will require developing a depth market analysis and an ingenious marketing strategy. This particular attractiveness has persuaded me to choose Rogers' Chocolates for this case of study.
The information came from the research completed, specialized publications about the subject, and an interview conducted to Mr. Steve Parkhill, President and COO at Rogers' Chocolates.
Table of Contents
Marco and micro environment factors. 2
Micro conditions affecting Rogers' Chocolates. 2
Macro conditions affecting the premium chocolate industry. 3
Psychographics segmentation. 8
The purpose of this report is to provide a research and analysis of the marketing strategy by Rogers' Chocolates under the context, guideline and boundary conditions of the Introduction to Marketing course (JRSB130) at the Shaw School of Business at NAIT. The references could provide a more detailed analysis.
The sources of information consulted to elaborate this report were specially selected and checked for getting a broad approach on the subject. The predominance of the information, authority of the writers, and the variety of journals consulted tries to elaborate a network of knowledge not biased.
I would like to recognize the contribution of Steve Parkhill, COO and President at Rogers' Chocolates, for his time and predisposition to answer questions about the company, its marketing strategy and execution, general information and the image in the cover page.
Rogers' Chocolates is one of the oldest companies in Canada, with 125 years of experience producing premium chocolates. The brand is synonym of tradition, quality and an enjoyable and gratifying chocolate experience. The company remains private owned with core operation in BC, where it was born.
Since the beginning of this decade, the premium chocolate market in Canada has seen a very important annual growth, and the growth forecast for this market indicates that it will continue at a similar rate.
In 2007, the Board of directors at Rogers' Chocolates appealed for an important expansion and market share growth. Thus, managers at Rogers' have developed an aggressive and risky plan. One of the key subjects of this plan was the development of a marketing research, analysis and new marketing strategic plan for repositioning the company in the expected trail.
During almost three years, Rogers' management has planned and developed its strategic plan. In October 2010, with the 125th anniversary of the company, Rogers' has started its implementation and monitoring stages. This plan includes a detailed analysis and forecast of the company market position, including environmental actors and forces affecting Rogers' and the premium chocolate market, SWOT analysis, expansion strategy, marketing mix analysis and development, etc.
This report summarizes all the potential aspects of the research analysis and marketing strategy developed by Rogers'. It presents the beginning of the implementation and monitoring plan. Finally, some conclusions are reached stressing areas where Rogers' could improve its marketing analysis, development and implementation helping Rogers' to reach its objectives.
Introduction
Rogers' Chocolates is steeped in tradition and a rich history that has earned the company its current reputation as one of Canada's premiere chocolate makers. It was founded by Charles Rogers in 1885 in Victoria, BC; it is Canada's oldest chocolate company and BC's second oldest company. Thus, Rogers' has a clear mission in a commitment to producing and marketing fine products which reflect and maintain the reputation of quality and excellence established for over a century. Today Rogers' remains a private held company and all aspects of the business are conducted with honesty and integrity, upholding the proud Canadian tradition (Parkhill, 2010; Thompson, Strickland, & Gamble, 2008).
Rogers' honours its time-tested brand by making only premium products, packaging them elegantly, and choosing partners carefully. Rogers' main product were high-quality, hand wrapped chocolates including its premiere line, the Victoria Cream, and various assortments. In addition to pure milk, fondue and dark chocolate, Rogers' also produced specialty items, such as chocolate-covered ginger, truffles, orange peel, no-sugar-added chocolates and a line of premium ice cream novelty items. Rogers' were of the highest quality and in 2006 won the prestigious Superior Taste Award from the International Taste & Quality Institute (Thompson et al., 2008).
In 2007, and after 18 years as president and general manager, Jim Ralph left the Rogers'. Steve Parkhill, a former vice president of operations for Maple Leaf Foods, accepted the major responsibility of leading the company under the expectation of the Board of directors of to double or triple the size of the company within 10 years (Thompson et al., 2008). This target has required to new executives to delineate an aggressive and risky strategic plan. To execute this plan with precision and minimizing risk, Rogers' executives have developed a marketing research and analysis (Parkhill, 2010). Now, Rogers' has a tremendous challenge to evolve its business through its goal and in supporting its reputation won over more of one hundred years.
Marco and micro environment factors
Rogers' should sail through different actors and forces that they affect the running of the company as well as the ability to build and maintain successful relationships with customers. The company marketing management's job is to build relationship with customers by creating customer value and satisfaction (Kotler, Armstrong, & Cunningham, 2008). Thus, Rogers' should address several micro and macro conditions that they affect its marketing strategy.
Micro conditions affecting Rogers' Chocolates
There are many forces related with the company environment that they affect Rogers' business:
Company forces: Rogers' has solid financial indexes but an important long-term debt, the human resources and their commitment with the Rogers' tradition, the conservative policy operation, internal management disputes, factory efficiency, limited factory capacity, and the labour intensive factor are factor that they affect Rogers' business (Thompson at al., 2008).
Supplier forces: The quality of cocoa from the same supplier could vary over years, and several concerns due to the inconsistence of tins suppliers from China as well as humanitarian concerns from the cocoa suppliers are important forces affecting Rogers'(Berthiaume, Dalziel, Gibb, Hewlett, Pettipiece, & Vadori, 2009; Thompson at al., 2008).
Marketing intermediary forces: Some intermediaries have changed from Rogers' to other cheaper and lowed quality brand. Rogers' is implementing the development of a wholesale network and market coverage (Parkhill, 2010).
Customer forces: The loyalty and repeat purchase behaviour of Rogers' customers, the variety of products that Rogers' offers and the quality of the products and its recognition have effect in Rogers' businesses (Parkhill, 2010).
Public forces: social commitment and the policies related with the employment of
disable people at the factory; healthy products, humanitarian concerns for cocoa suppliers and environmental considerations impact Rogers' business (Thompson et al., 2008).
Competition forces: Due to the attractiveness of the premium chocolate segment, many companies are trying to increase their share in this sector with very aggressive politic of expansion (Thompson et al., 2008).
Macro conditions affecting the premium chocolate industry
There are many forces related with the macro environment that they affect the premium chocolate market.
Economic forces: The Canadian market size for chocolates was US$167 million in 2006 and it was projected to grow at 2% annually. The premium chocolate segment was experiencing a 20% annual growth rate (Thompson et al., 2008). Economic growth has been declining worldwide. Nevertheless, the premium chocolate segment has not received a huge impact of the crises and the growth expectation is maintained at the same level (Berthiaume et al., 2009).
Political forces: Larger chocolate manufacturers are asking to the US Food and Drug Administration to change the definition of the term "chocolate". If this requisition is validated cheaper and lower quality products can still be labelled as chocolate (Berthiaume et al., 2009). Similar concern is present in Europe with the called Chocolate War (Wielaard, 2010).
Demographic forces: Consumers are finding new ways to "go green", decrease their environmental footprint and to have a healthier lifestyle. Thus, consumers are demanding more dark chocolates, organic products and expect manufacturers to be as environmentally friendly as possible (Berthiaume et al., 2009).
Cultural forces: There is an increase in Human Right concerns in this industry and its reputation (Calori, Atamer, Melin, & Gustavsson, 2000). The 70% of the raw cocoa is produced in Africa. In countries like the Ivory Coast, cacao is a politicized crop and the child chocolate
slave labor is a common issue (Dollinger, 2006).
Technological forces: New technology evolution allows to the industry to produce more efficiently and decrease costs. In the specific case of Rogers', this evolution could represent a disadvantage due to the high handed production tradition (Thompson et al., 2008).
Natural forces: This industry is characterized by the seasonal business and a huge uncertainty forecast in selling. The nature of seasonal production created problems with out-of-stock and long product shelf life. For example the Christmas season is particularly chaotic, with 24 % of annual sales occurring in the eight-week run up to Christmas (Thompson et al., 2008).
SWOT Analysis
The SWOT analysis of Rogers' Chocolates reveals important strengths, some weaknesses and threats, and many opportunities for growing. This analysis shows that the company has a tremendous opportunity to improve and expand its business.
Strengths
Market: the premium chocolate segment is experiencing a 20% annual growth rate. This segment is where Rogers' is targeting its product (Thompson et al., 2008).
Loyalty and repeat purchase: customers at Rogers' Chocolates have a high index of loyalty and repeat purchase. People who has taste the quality of the product have experimented the chocolate experience that Rogers' offers. These characteristics are also experienced in the sub-segment of corporate gift (Berthiaume et al., 2009; Thompson et al., 2008).
Quality and tradition: Rogers' has a strict control of the quality of the raw materials; in addition, most chocolates are handmade, then hand-packed and assorted in fine art tins (Berthiaume et al., 2009; Thompson et al., 2008).
Other strengths are brand trial, variety, social involvement, solid financial indexes,
human resources, recognition and diversification (Berthiaume et al., 2009).
Weaknesses
Passion: Rogers' employees are passionate but their passion sometimes means a strong resistance to change. Anything new causes concern that the company is compromising its values and heritage (Thompson et al., 2008).
Market: Tourism is a very important market for Rogers' and it has introduced some weaknesses since sales has slowed considerably since 2001, in part for the decline in American tourism after the 911 attach, and in part for the weak US dollar. In addition, Rogers' is focusing mainly in the western Canada; this gives to national competitors some advantages (Berthiaume et al., 2009; Parkhill, 2010; Thompson et al., 2008).
Timing action: Rogers' has pursued a conservative approach summarized by "wait and see" which allows to the competence to take the initiative (Thompson et al., 2008).
Technology: Rogers' have been using the same equipment for many years even though there are available technologies to prolong shelf life of products and cut down on production time. The tradition at Rogers' put barriers to the adoption of new technology (Berthiaume et al., 2009; Thompson et al., 2008).
Other weaknesses are some locations, wholesale network, market coverage, poor attracting web, factory operation efficiency, long-term debt, internal management disputes, labour-intensive and time-consuming production, seasonal business, inconsistence from China's tins suppliers, uncertainty forecast and production planning, and limited factory capacity (Berthiaume et al., 2009; Parkhill, 2010; Thompson et al., 2008).
Opportunities
New product development: The emerging of new generations requires effort to attract these new customers. The current increase in demanding of natural, sugarless products offer new
opportunities to the premium chocolate market (Parkhill, 2010; Thompson et al., 2008).
Web sales: The targeted segments have a huge rate of internet use and on-line purchases. Rogers' has an opportunity to expand its online sales by improving and promoting its web site. This could help Rogers' to attract new and young customers (Andrews, 2000; Parkhill, 2010).
Strategic alliances and turnkey store in a store: Turnkey store-within-a-store setup would allow adding a mini-Rogers' store in their shop offering to Rogers a rapid expansion to other segments. To develop alliances offer the advantage of synergies with other companies, their products and to boost the retail, internet and wholesale markets (Thompson et al., 2008).
Other opportunities are franchising, the development of special line of chocolates, vertical integration (own cocoa production), private level, publicity in national, regional, worldwide events, dumpers for seasonal demand, incorporation of technology, re-engineering of processes, and the improvement of the image in relationship with raw material providers (Berthiaume et al., 2009; Parkhill, 2010; Thompson et al., 2008).
Threats
Macro-conditions: instead of the Canadian market growth for premium chocolate in the last years, other forces are taking importance. Some of them are the permanent risk of a new global recession due to the current currency war, weaknesses of the American dollar and the loss of international tourism (Parkhill, 2010; Thompson et al., 2008).
Redefinition of the word "Chocolate": the EU has redefined the word "Chocolate" allowing low quality products to receive this denomination. The USDFA is following the same trend (Berthiaume et al., 2009; Thompson et al., 2008; Wielaard, 2010).
Competition: The business is shared with big players with different strategies. For example Godiva (Nestle) achieves price higher than Rogers' with lower quality products, Callebaut products have a huge penetration in Western Canada as well as Cadbury and Hershey. The macro-conditions favor the arriving of the competence in the growing Canadian market for premium chocolates.
Other threats are the link with human right concerns (Thompson et al., 2008).
Segmentation
Since Rogers' Chocolates were fairly expensive relative to others in the market due to their quality ingredients and their hand-packaging processes, the company targeted affluent customers looking for a luxury experience with a superior taste, or an elegant, prestigious, and uncommon gift item. Rogers' has developed market segmentation, evaluated them and developed a concentrated marketing strategy identifying its competitive advantages in those niches that Rogers' wants to serve (Parkhill, 2010).
Behavioural segmentation
Rogers' has identified three main sub-segments: personal indulgers, gift givers and business givers (Berthiaume et al., 2009).
Personal indulgers are consumers that they love chocolates or with a sweet tooth. This group presents an appreciation and reconnaissance of the quality, high loyalty to the brand, and they are looking for unique and good old-fashioned service. Offering a distinctive service and complete new experience for these customers, Rogers' has lunched the Sam's Deli, a cafeteria-style restaurant at the inner Harbour in Victoria (Thompson et al., 2008).
Gift givers are consumers that identify the brand, appreciate the quality and the satisfaction of the chocolate meaning. They thought in giving gifts to the ones they love, family and friends enjoying the quality of the product. This consumption is very seasonal (e.g.: Christmas, Valentine's Day) (Berthiaume et al., 2009).
Business givers are consumers that are part of the corporate world. They have reached high managers level positions in its companies. This sub-segment is seasonal considering social and company events (e.g.: celebration, holiday bonuses) (Berthiaume et al., 2009).
Demographic segmentation
Rogers' has sub-segmented the demographic segmentation. The focus of the segment is males and females aged between 25 and 54 years, mid to high household incomes, collar workers and professionals, and urban dwellers. This demographic segment is related with the belief that the brand creates an experience for them (Berthiaume et al., 2009; Parkhill, 2010).
Although the focus on the segment is equal for males and females, the objective of the choice is different. According to Wasink (2003), personal indulgers females tend to prefer snack-related comfort foods such as chocolates more than males (p.743). Nevertheless, this difference is diluted when both personal indulgers and the gift-givers sub-segments are included.
Psychographics segmentation
Rogers' works for a consumer segment that wants luxury products and they are willing to pay more for them. This segment is characterized by a high standard of life, belonging to the upper middle class and higher; people that they like to be compensated for the high quality of products and associated with the prestige of the brand. This represents achievers lifestyle with strong personalities that they like to enjoy the taste of a quality product (Berthiaume et al., 2009).
Rogers' has developed a sub-segment answering the growing interest in healthy products and healthy lifestyle. This niche is covered by Rogers' with special products based on organic products and healthier version products with natural ingredients and no trans fats (Berthiaume et al., 2009; Parkhill, 2010; Thompson et al., 2008).
Geographic segmentation
Rogers' has developed a geographic segmentation to better serve its customers; this
segmentation is currently in expansion under the new designed market strategy (Parkhill, 2010).
Rogers' brand was established around Rogers' long history, which has been developed in the area of Victoria, BC. Rogers' retail stores are located in a tourist area, such as downtown Victoria, Granville Island, and Gastown (Rogers'Chocolates, 2010; Thompson et al., 2008).
Learning from the BC experience and pursuing an expansion strategy, Rogers' has identified a geographic segmentation where to serve customers in the bigger Canadian cities. These cities and the associated territory (e.g.: Toronto, Atlantic) are served by agents with exclusive rights in their geographic territories (Rogers'Chocolates, 2010; Thompson et al., 2008).
The Internet market offers a number of options to gauge customer attitudes and feelings towards promotions, brands and new products. The Internet also allows the access to new and younger customers and new geographic markets (Andrews, 2000).
Differentiation
Rogers' differentiates themselves from the competition by offering a premium quality chocolate that intimately connects with their consumers through a personal chocolate experience. Each unique and detailed touch-point reiterates Rogers' quality over the competition. Also, by introducing an organic chocolate to the Rogers' family, consumers will realize Rogers' is in tune with their consumers needs for a healthy lifestyle. All these characteristics offer to Rogers' a competitive advantage in the premium chocolates market (Andrews, 2000; Berthiaume et al., 2009; Parkhill, 2010; Rogers'Chocolates, 2010; Thompson et al., 2008).
Positioning strategy
Rogers' has positioned itself as a company that offer more value for more, as Figure 1 shows. Rogers' offers not only a high quality chocolate but a gratifying experience. The stores and the renovated web site appeal to the chocolate hedonist's senses and provide a unique and enjoyable experience to satisfy the delicate chocolate palate (Berthiaume et al., 2009).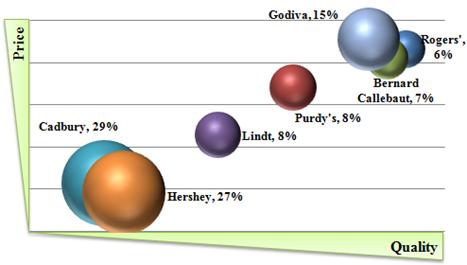 Figure 1. Market competitiveness map for premium chocolate presenting the relationship between quality, price and the percentage o the market share for the most important brands in Canada (Berthiaume et al., 2009; Parkhill, 2010; Thompson et al., 2008).
Marketing Mix
Trying to achieve the goal, managers at Rogers' have developed and implemented a strategic plan. This plan was designed respecting the 125 years of tradition as well as the growth expectation that Rogers' has set (Parkhill, 2010).
Product
Rogers' not only offers chocolates, it offers a complete personal experience buying and delighting chocolate. The core competence is the specialization in a wide variety of premium chocolates that are enjoyed by all who experience the products (Rogers'Chocolates, 2010).
The core benefit is incremented by the brand; Rogers' brand is established around his long history; many of Charles Rogers' original recipes remain untouched since 1885 as testimony to the constant pursuit of perfection. Thus, Rogers' reaffirms itself as a classic Canadian premium brand of high-perceived value, with a positive brand image. In addition, Rogers' have been evolving its offer of products developing organic, all natural and artisan product.
The packaging gives to Rogers' products a special attractiveness stressing the high
fineness and quality of the products. Delicate wrap-up, special tin made in China with seasonal decoration and/or harmonious presentation. In addition, Rogers' has innovated the packing for chocolates incorporating environmental friendly packing (Berthiaume et al., 2009).
With the celebration for its first 125 years in the market last October 25, Rogers' has introduced new products. Among other innovations, Rogers' has presented the incredible experience of the "Tasting Club", where the members of the club receive (or send to someone as gift) a special selection of seasonal themes every month (Rogers'Chocolates, 2010).
Rogers' has been very conservative introducing new products under the "wait and see" policy. This started to change with the new administration. Nevertheless, Rogers' chocolates products have a long life-cycle; in fact, the original recipe from Charles Rogers is still in use after 125 years. New products focus in packaging, dark chocolates, new flavours, seasonal products, as well as adapting the products to social trends. New products have short time and low investment in their development. The most important concepts is to maintain the quality and reputation of the products and brand. Thus, the introduction period could be important when they could affect the quality or quality perception. The growth period is significantly long for most of the chocolate based products but relatively short for the packaging, which should be reviewed with a period of 1 to 5 years (Berthiaume et al., 2009; Parkhill, 2010; Rogers'Chocolates, 2010; Thompson et al., 2008).
Place
Rogers' has focused its operations in four major areas: retailing chocolate products through company-owned stores, wholesaling chocolate products, online/mail order sales of chocolate products, and sales from Sam's Deli (Thompson et al., 2008).
Approximately 50% of the company's sales come from Rogers' retail stores located around Victoria, BC. The Specialty Stores featured Rogers' many products displayed attractively with an overall Victorian theme offering an excellent retail experience (Thompson et al., 2008). Under Parkhill's administration, Rogers' retails stores have been restructured focusing in more profitable areas and looking for a regional expansion (Parkhill, 2010). Franchisee for retail was a subject of debate at Rogers', but management believes it is still not time to develop it.
Approximately 30% of the Rogers' sales come from wholesale account in five categories: independent gift/souvenir shops, large retail chains, tourist retailers, corporate accounts and high-end food retailers. This area allowed Rogers' to expand its market outside the Victorian area. Agreements with Sunterra in Alberta, Sobeys in Western Canada, Whole Foods in Toronto, etc, had added significant customers. The wholesale area is evolving at Rogers' through a more integrated business (Thompson et al., 2008).
Online, phone, and mail orders represent the 10% of Rogers' sales (Thompson et al., 2008). Only 20 % of online purchasers were in the 35-44 age group. Rogers' has redesigned its web page as target for its 125 anniversary, and it has presented a more attractive and modern web site. Rogers' expects to significantly increase online sales (Parkhill, 2010).
Remaining 10% sales is generated from Sam's Deli, a cafeteria-style restaurant on the Inner Harbour in Victoria in a partnership with Empress Hotel. The quick growth and success of the Sam's Deli, has driven to Rogers' to expand this area (Thompson et al., 2008).
Price
Rogers' knows that its production cost is higher that the competence in the premium market, as well as that offers one of higher product quality and provides an exciting buying experience (Figure 1). This target market and positioning strategy require designing a value-based pricing prioritizing customer value. Nevertheless, Rogers' seeks additional objectives such as increase the market share, current profit maximization and product quality leadership, marketing mix strategy, competition, and market evolution (Berthiaume et al., 2009; Kotler et
al., 2008; Thompson et al., 2008).
Although the most important strategy is the value-based pricing, Rogers' implemented diverse special strategies. For example it offers a discount in its own retailers when the inventory excess require it, discount for quantity, or membership. For domestic delivery Rogers' charge a quasi flat price with variation for quantity and carrier, not for distance. The same strategy is developed for delivering to the US and International (Thompson et al., 2008).
Promotion
Rogers' is embarking on an aggressive growth strategy after the economic turndown. During this time, Rogers' has coordinated a complete Integrated Marketing Communication (IMC) strategy. The 125th anniversary was the kick-off event of the implementation of this strategy. The strategy includes advertising, sales promotion, direct marketing, and public relations in a concentrated marketing strategy. Because of the private ownership of the company, detailed strategies are not public information as well as the promotion budget (Parkhill, 2010).
The company has developed and implemented prints in selected magazines popular among the target audience, broadcast advertising on TV, internet and radio for those targeted areas (Rogers'Chocolates, 2010), a completely renewed web-site that reinforce the brand and facilitate sales, and an outdoor advertising in the selected segments in Eastern Canada; the objective are multiple, to inform, persuade and remain about new products, high quality and the whole experience of selecting chocolate for own pleasure or gift.
Rogers' has built a solid public relation and it will continue developing this area. Some of the developed strategies are to build a solid presence in social networks, sponsorship of especial events and community societies such as non-governmental organizations and colleges (Rogers'Chocolates, 2010).
Rogers' has implemented sales promotions to incentive sales and increase memberships,
develop business relationship, wholesale area, and special promotions for season's events. Thus, Rogers' try to increase brand trial among new users including sample in specific events involving the selected segment markets (Parkhill, 2010; Rogers'Chocolates, 2010).
Direct marketing is a key element in the new Rogers' strategy, with focus in those tools that internet offers such as web site and social networks, complete catalogue, strong support for telephone marking (specially for the American tourists, since there were no American resellers), and the development of an strong relationship, based on synergies, with wholesalers (Berthiaume et al., 2009; Thompson et al., 2008).
Social Responsibility
Rogers' has built strong community connections; it has been part of its history to be truly care about the community. Thus, Rogers' supports over 700 not for profit organizations with chocolate donations to help them raise monies in their area across Canada and the U.S. for worthwhile causes. Rogers' has initiated a large partnership with Thrifty Foods a Pink Ribbon Breast Cancer Raspberry Swirl Chocolate, available at all Thrifty Foods locations throughout October 2010 in BC. In addition, thought its web site and a phone number, Rogers' has established a direct channel where receives donation request (Rogers'Chocolates, 2010).
Finally, Rogers' has a huge social involvement; several disabled people are employed at the Rogers' plant. Rogers' also supports a local social service agency that brings in a group of brain-damaged individuals every Friday to help with production (Rogers'Chocolates, 2010).
Conclusions
Certainly Rogers's has developed a huge work researching and studying how to meet its goals, and developing the complete strategy to achieve them. Now, is time for Rogers' of implementing this plan and to fulfill those objectives; we could see in coming months the development of this plan and learn of what Steve Parkhill and his team have developed.
Rogers' has correctly segmented the market for the products that is offering. Nevertheless, some improvements could be developed. Geographic segmentation could be better defined and developed. Rogers' is giving advantage to its competitors and it is losing market share because of its low geographic development. Franchisee development, better integration with wholesalers and retail chains could help Rogers' with a controlled and quick expansion to other geographic regions. Behavioural segmentation can also be improved through the creation of sub-segments. For example, personal indulgers and gift givers could be divided in males and females due to the differences that it exists between these two groups.
Rogers' needs to restructure several processes in both administration and the factory structures. The plant has been operated in a non-efficient way compared with competitors and many issues related with management discrepancies have risen in the last years.
New product specifically for the new sub-segments should be created. In addition, Rogers' has not tradition offering liquor chocolates; these products could offer more opportunities as well as the revision of the demographic and psychographic segments.
The update of the company web site was a necessity. It was done considering the Rogers' tradition as well as the modernization of the site. The result is very positive, instead of that some adjustment are still necessary to improve the quality, facilitate the navigation and the purchase.
The utilization of the IMC does focus in a very small area centered in BC. Rogers' could develop a broader national and regional IMC strategy in association with strategic partners (e.g.: free shops, hotel chains, retailers, distributors). In addition, it could sponsor groups, artists or disciplines in cultural activities where the targeted market has an active participation. This could help Rogers' to broadcast its brand both nationally and regionally.
References
Andrews, J. (2000, March). Comptoir de commande électronique. Retrieved October 10, 2010, from CA Magazine: http://www.camagazine.com/archives-fr/edition-imprimee/2000/march/regulars/camagazine25924.aspx
Berthiaume, N., Dalziel, S., Gibb, C., Hewlett, A., Pettipiece, M., & Vadori, C. (2009, December 16). Rogers' Chocolates - Advertising Campaign. Retrieved October 2, 2010, from Celia Gibb: www.celiagibb.com/files/Download/Rogers.pdf
Calori, R., Atamer, T., Melin, L., & Gustavsson, P. (2000). Innovative International Strategies. Journal of World Business, 333-354.
Dollinger, M. (2006). Books on the Horizon. Indiana: Kelley School of Business, Indiana University.
Kotler, P., Armstrong, G., & Cunningham, P. (2008). Principles of Marketing: 7th Canadian Edition. Toronto: Pearson Prentice Hall.
Rogers'Chocolates. (2010). About Us. Retrieved October 2, 2010, from Rogers' Chocolates: http://www.rogerschocolates.com/history.php
Thompson, A., Strickland, A., & Gamble, J. (2008). Crafting and Executing Strategy (17th Edition pp. C-177 - C-192). Ontario: McGraw-Hill Irwin.
Wansink, B., Cheney, M., & Chan, N. (2003). Exploring comfort food preferences across age and gender. Physiology & Behavior 79, 739– 747.
Wielaard, R. (2010, November 25). EU court: No such thing as 'pure chocolate' . Retrieved November 25, 2010, from The Seatle Times: http://seattletimes.nwsource.com/html/businesstechnology/2013518616_apeueuitalianchocolate.html
19/05/11